Eating & Drinking My Way Through Budapest
December 09, 2018
Holy shit, ya'll. Budapest is foodie and wino heaven. My body was not prepared for this magical journey.
My normal routine any time I travel to speak at a conference is to arrive a few days early so I can adjust to the time change, pick 2-3 things to do for sight seeing, and get the lay of the land(as a child who grew up in midwestern suburbs I am OBSESSED with public transportation). I planned on sticking to this pattern, but decided to supplement the sightseeing with some AirBnb experiences for the first time. I stayed in an AirBnB the first half of the trip as well, and was pleased with my location choice - I stayed in the Jewish quarter near the Ruins bars and ended up being a 5 minute walk from some of the most amazing food & booze places.
Getting Around
There's various public transportation that runs all over the city via the metro, buses, and trams. One ticket will cover any type of travel, though I found it much more convenient to buy a 72 hour pass vs. dealing with buying individual ones every time, especially when some of the ticket machines didn't work! I was able to get everywhere I needed to just by walking + taking the available transport.
Food
The first day in Budapest I had booked a "Budapest Best kept Secret Foodie Tour" - I figured this would be a great way to learn about local cuisine to guide eating the rest of my trip. Spoiler alert - it was. Our host, Orsolya is a chef and taught us loads of interesting stuff about the local food culture. I learned about some of the main dishes and more popular street foods. Orsolya also told us how much Hungarians love mushrooms, and actually goes mushroom hunting herself.
Lángos - A favorite Hungarian street food of fried dough topped with sour cream and cheese. Yes it's a heart-attack waiting to happen, but you'll die happy.
Chimney cake - Another street food, well, street dessert that is made from spun dough that's cooked over a coal fire and covered in sugar, and is perfect for eating on a chilly December evening.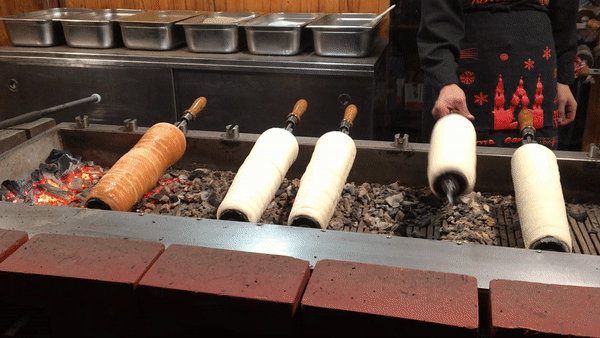 Goulash - soup with potatoes and carrots.
Blood sausage with pickled veggies and mustard - Very popular to eat at butchershops, and we had these great apple shaped peppers that were pickled and delicious.
Fisherman's Soup - A paprika flavored soup with thick cuts of river fish (being that Budapest is split by the Danube river, fisherman would fish and make this soup!)
Paprikás & Dumplings - you may recognize this as the dish Vision epically failed to make the Scarlet Witch under house arrest in Captain America: Civil War. In it's true form it's a delicious dish of a paprika-infused sauce usually served with a protein like chicken, fish, or veal, and tasty tasty egg noodle dumplings.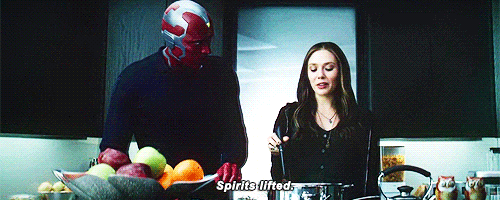 Mulled wine - Warm delicious mulled wine stands seemed to be everywhere Christmas markets were and offered several varieties including sour cherry, plum, strawberry, and apple. Steamy cups were perfect for browsing the markets and watching shows projected on the side of St. Stephens Basilica.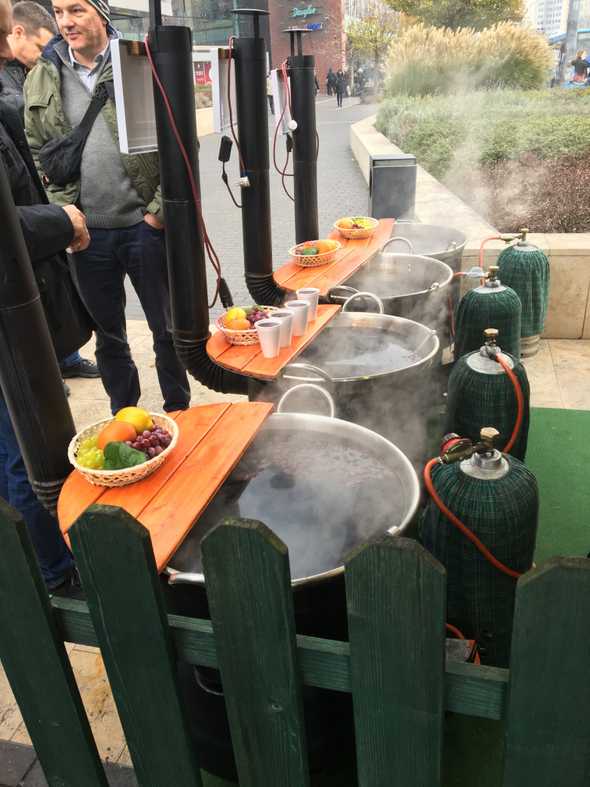 Pálinka - A fruit brandy, though TBH it's closer to a tequila as its 40+ proof. Pálinka is originally made from the fruits that dropped to the ground, most common flavors being plum, apricot, apple, pear, and cherry.
Restaurants & Wine Bars
Between Orsolya's recommendations and this epic Reddit thread, my dining experience in Budapest was nothing short of amazeballs. A few things of note - there's not a much of a breakfast culture, most Hungarians eat at home, but if you do your homework you can find places to eat in the morning. There's also a huge reservation culture, with everyone dining between 7 and 9 pm. There was at least one place on my list, Olimpia, I wasn't able to get a reservation to. 😭
KönyvBár & Restaurant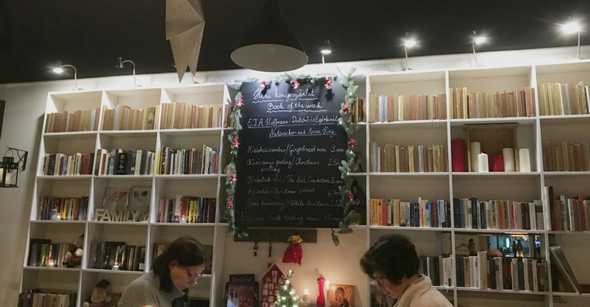 Ok, this place was minutes from my AirBnB and was fantastic. I arrived right around 6:30 and managed to snag a table despite not having a reservation, it being my first night in Budapest and all. They took pity and seated me in the cozy place full of bookshelves and Christmas decor. KönyvBár has a new menu every week they theme on a different book, and this week it was The Nutcracker! They offered a Chef's prix fixe menu + wine pairing, which I love because it means I get to taste all the delicious things and make 0 decisions.
First up was a savory pumpkin panna cotta in the shape of a gingerbread man made with foie gras "bon bons". Next, a "Christmas pudding" with sea trout pudding, the most delicious coconut milk + fish broth, and 3 different types of caviar. The third course was absolutely my favorite, a quail leg with the most decadent mushroom sauce. The main course was a "Christmas surprise" and was served in a Christmas present box, which I found to be hilarious and adorable. The present contained an herb-coated veal loin with parsnip and beetroot. And finally was the "White Christmas" dessert. I don't even know WTF it was, I was too distracted by how pretty it was served on a box of lights and pine.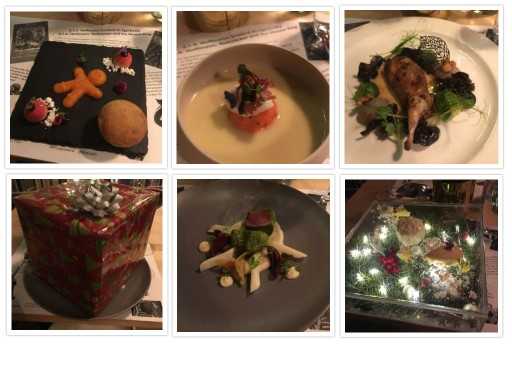 Each course came with a fantastic Hungarian wine pairing, and taking pity on my solo-self they served me plenty of other fun drinks, my favorite being an almond liqueur. To top it off, my server had FANTASTIC wine bar recommendations for me, including Doblo and Borkonyha.
Bar Pharma
https://www.facebook.com/barPharma/
Ever the lover of nightcapping my evenings and needing the excuse to walk off my decadent 5 course dinner, I popped into a bar that had caught my interest earlier in the day - Pharma. It looked bougieAF, and when I walked in the bartenders were the perfect mix of outstandingly talented mixologists and pretentious hipsters.
Rosenstein
This was my pick for a traditional Hungarian meal, and it was clearly where all the cute old Hungarian couples go to dine. The place was homey and antique while sporting crisp white tabel linens, it was like eating in Grandma's kitchen, if my grandmother was Hungarian, Jewish, and a grandfather instead - the restaurant owner and chef is Tibor Rosenstein, and he happened to be there that night charming his customers. I ordered the Pan-fried chicken supreme with paprika sauce and Hungarian potato dumplings, and didn't hesitate to say "yes" when the waiter asked if I'd like some Matzo ball soup while I waited. Yum! The dumplings in my entree were fluffy and delicious and magical and perfect for sopping up the fantastic paprika sauce, and I don't think I've ever had more perfectly crisp confit-esque chicken in my life.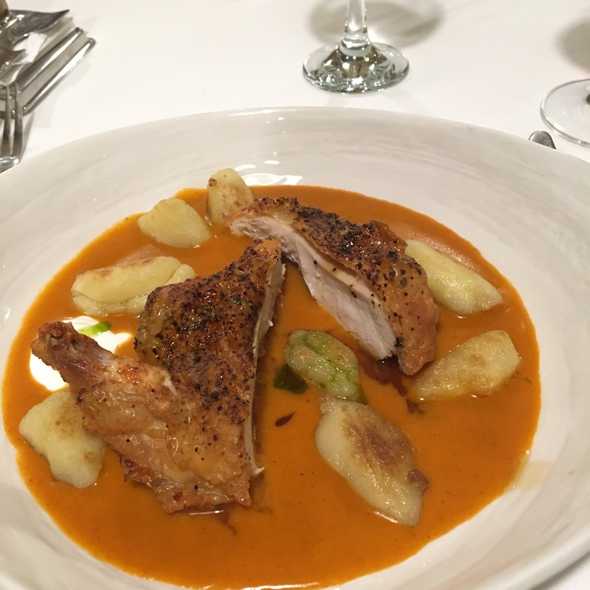 The best thing was on my way out, they had cookbooks for sale on a little hallway table. Every time I travel I pick up a cookbook of local dishes, and my AirBnB food tour guide had warned me to make sure to get a book in English, as recipes wouldn't translate well from a Hungarian one. Not only did the Chef/Owner have his cookbook IN English, but the waitstaff took it to him and his son so I could have a signed copy!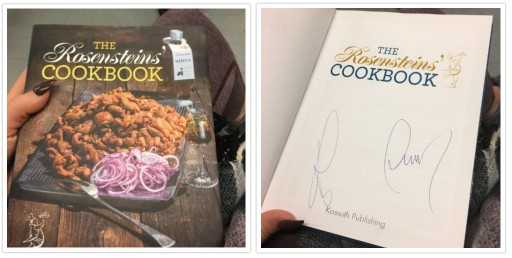 Doblo Wine Bar
Ha, so finding the links to all the places I ate/drank at to write this block I discovered my favorite wine bar, Doblo, owns http://www.budapestwine.com/. BallerAF and I'm here for it. They're not joking about this being the most beautiful wine bar in Budapest either, the moment I walked in I knew it would be my Tannin away from home. The brick came together in a rounded ceiling to display a fantastic chandelier, couples & groups were tucked into cozy booths and corners, and a small band was setting up to play. The staff was friendly and talked to me about the Hungarian wines on the menu, pouring me samples and helping me find a bodyful red I was craving. PS, this place was literally crawling distance from my AirBnB.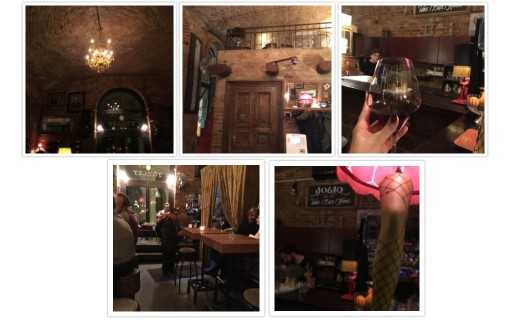 Szegedi Halászcsárd
http://www.szegedihalaszcsarda.hu/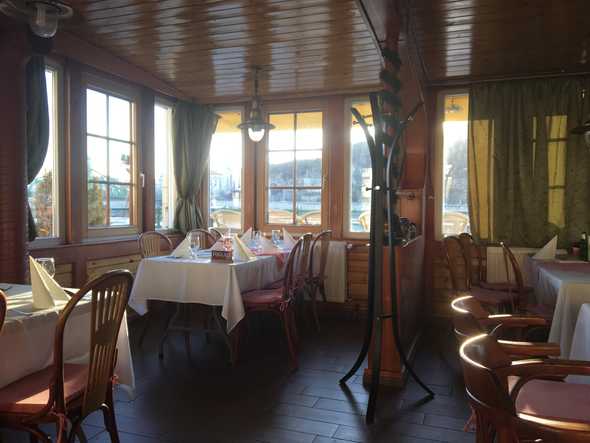 On my list of Hungarian foods to try was fisherman's soup, and Szegedi Halászcsárd was supposed to be a great place for it! I was surprised to see it was right on the Danube river, and was a charming little wood paneled placed with a fantastic terrace. For such a simple sounding dish, the fisherman's soup(with catfish) was really fantastic with a rich, warm but not too spicy broth and basically half a catfish. It was served with peppers(for additional spice) and soft warm bread for soaking up more of the soup. I didn't come close to finishing the huge portion, which is a pity, cause it was fantastic.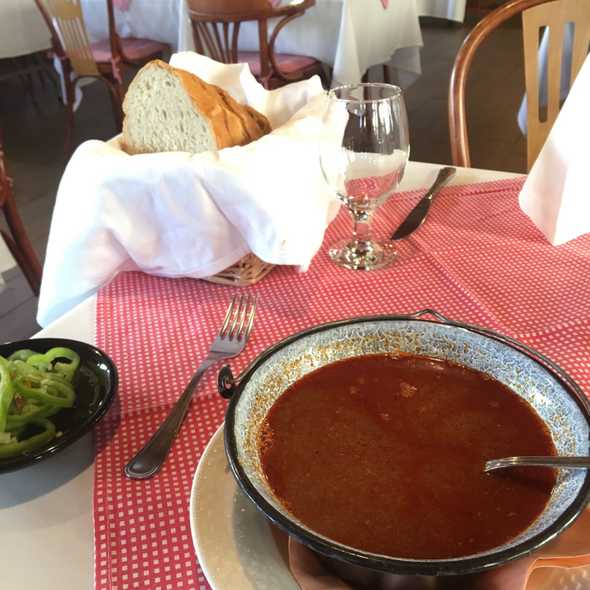 Borkonyha Wine Kitchen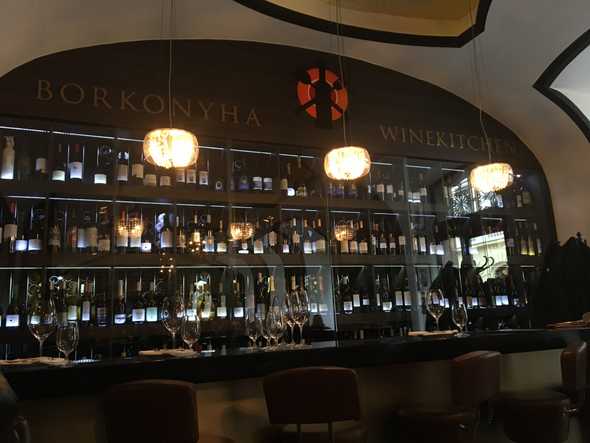 I don't even know where to start with this place. It was absolutely the most mind-blowing meal I had in Budapest, possibly ever. I popped in for a late lunch and again opted for the chef's prix fixe menu + wine pairing by the time my server had finished describing the 2nd course. The epicness started with the bread they served before anything came out. I'm not a huge bread person, the basket usually goes exclusively to my husband to chow down on, but when the server described the breads my interest was piqued. The middle bread was a cumin bread(?!?!) and holy shit I could not stop eating it. It was possibly the most delicious carb I've ever tasted. The first glass of wine I was poured, Solo Quinta Branco, was absolutely my favorite, and not something I would normally ever expect to enjoy - a light fruity, floral blend of 5 different grapes. According to Vivino it's one of the top 1% of all wines in the world.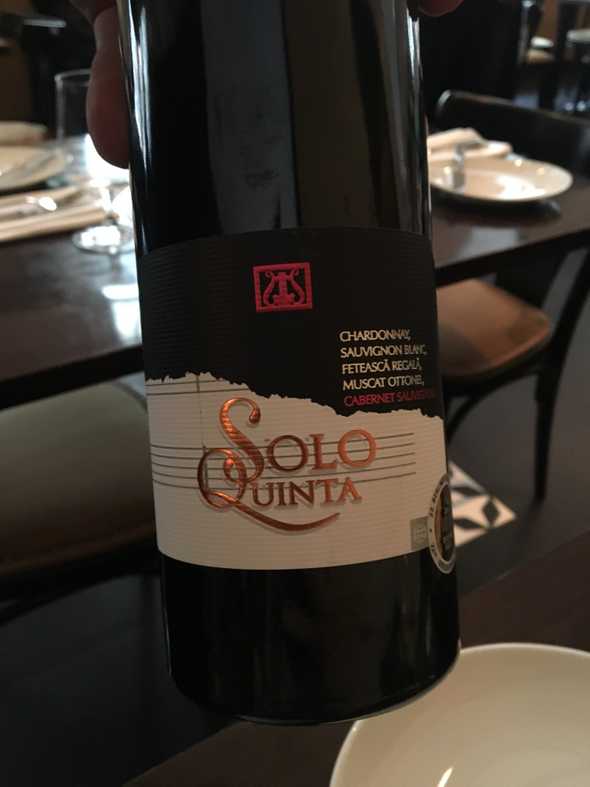 I was off to a FANTASTIC start at Borkonyha and hadn't even gotten the first course yet. When the first course did arrive, it was droolworthy - catfish, the most perfectly seared scallop, and pickled fennel that blew my mind, topped with caviar. As fantastic as this was, it paled in comparison to the mushroom soup that came next. The second the server began pouring the broth into my bowl, my nose was assaulted by the most decadent mushroom scent of my life. I swear to you, I would wear it as perfume if I could it was that good. Next up was perfection in quail leg form, perfectly cooked to a tender with a hint of crispness, served alongside squash carpaccio and a pumpkin puree. Ded.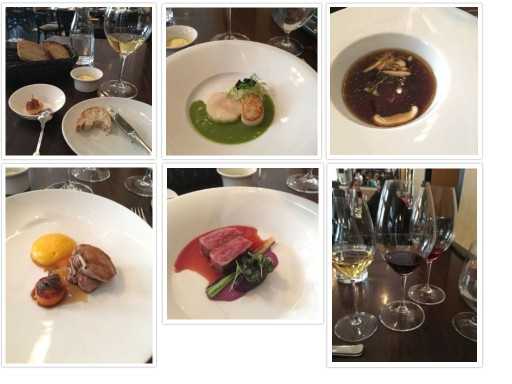 It's unfortunate I'm such a shit food-photographer, I'm really not doing this meal justice. But the 4th course was seared veal with green onion and a wonderful red cabbage puree, followed by a very pretty dessert(TBH I forget what it was, I'm way more into the savory dishes) and a dessert wine from the Tokaj region in Hungary. Again, sorry for the potato quality, but here's a cool map of wine regions: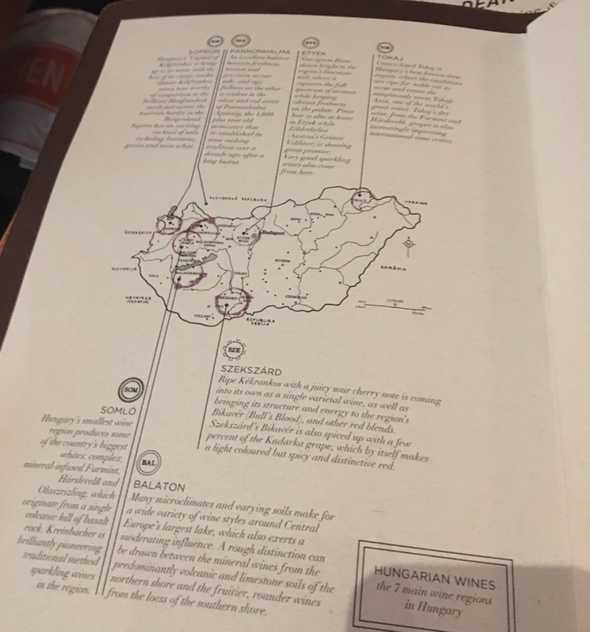 If I get the chance to go back to Budapest I will absolutely be booking day trips into different wine regions in Hungary.
Deák St. Kitchen
As a purveyor of obnoxiously bougie bars, it's not often a place can surprise me with a new smoked cocktail. Deák St. Kitchen did.
And when my entree came, it put all späetzle I've ever had to shame. I ordered a paprikas with veal shoulder and späetzle dish, and clearly I make excellent life choices. The sauce was deep, rich, and flavorful, the veal fell apart in my mouth, but the damn späetzle had been lightly browned to have the perfect hint of crispness which is the most basic yet most ingenious idea ever and will become a regular concept in my dumpling/späetzle preparation from now on.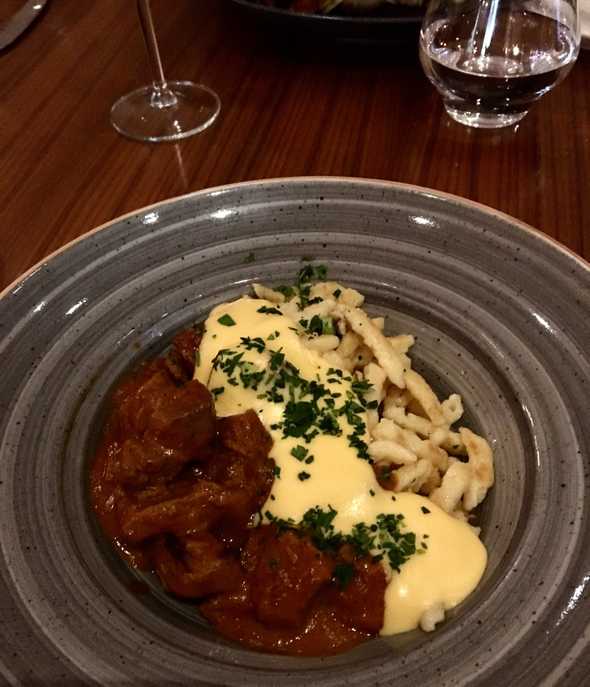 Sights
St Matthias Church
For sightseeing I booked an AirBnB experience photography tour, which I may need to do every trip from now on. The tour was scheduled for 7:30am, before most tourists were out and about, and a photographer toured a small group of us around to breathtaking sights to tell us about the history and take stunning photographs. St Matthias Church is the most breathtaking church I've ever seen, built in a Neo-Gothic style and showcasing colorful porcelain roof tiles made by a famous local manufacturer, Zsolnay.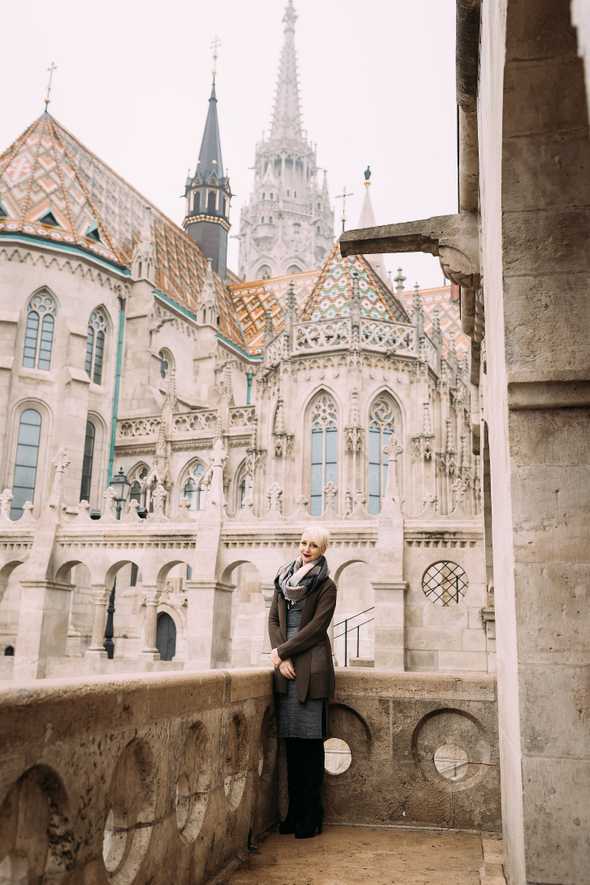 Not only was the church gorgeous, but it stands atop Buda Castle hill offering amazing views of the Pest side of the city. (ps, Budapest is a city combing two old cities separated by the Danube, Buda and Pest)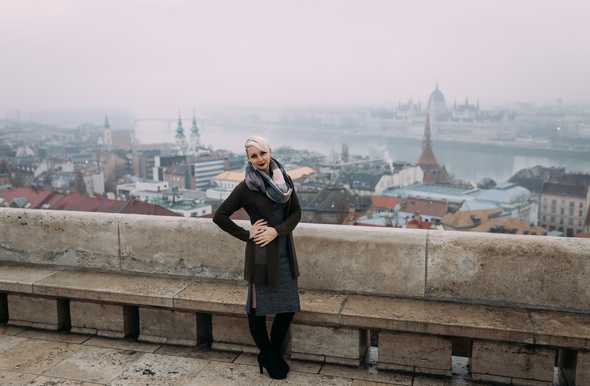 St. Stephens Basilica
I went to this basilica multiple times; on the photography tour, to shop at the Christmas markets, and for a breathtaking view of the city.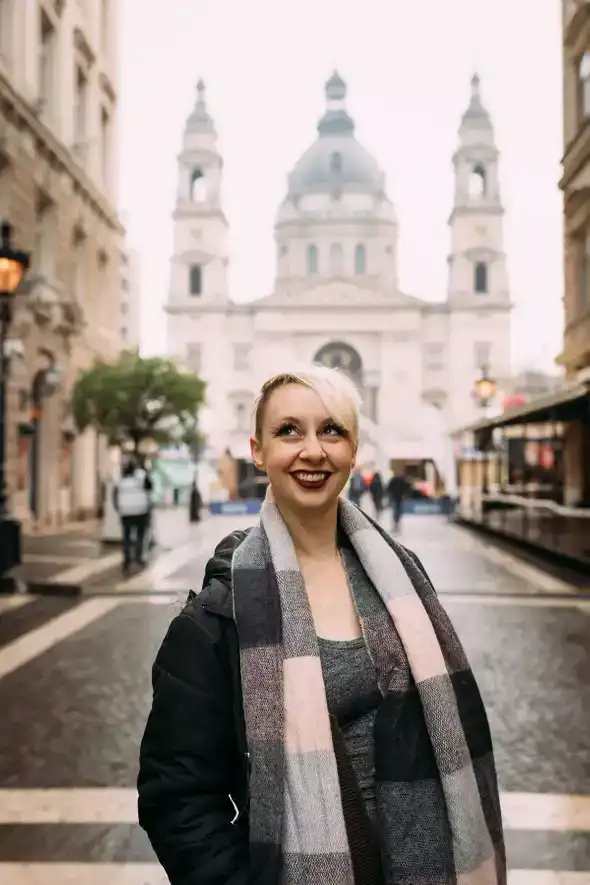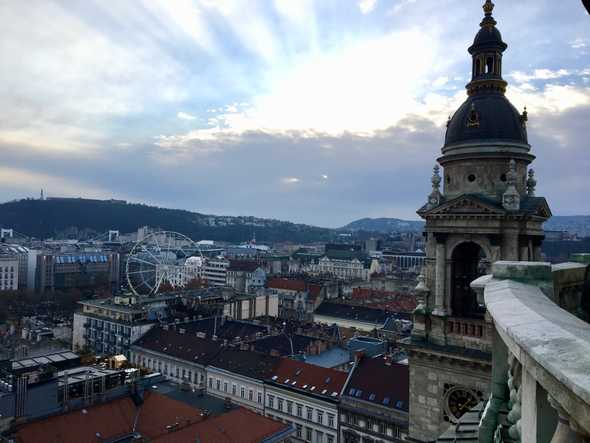 Literally Every Street I Walked Down
Budapest is just pretty. /shrug.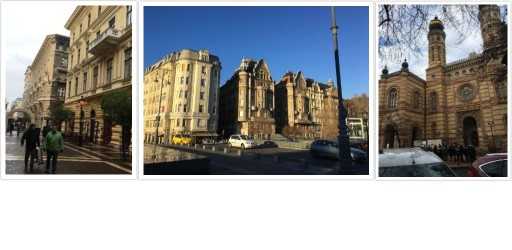 Activities
Christmas Markets
Like any basic white bitch, I enjoy window-shopping and looking at pretty things. The Christmas Markets, albeit overpriced, were charming and full of fun baubles, delicious food, and most importantly, mulled wine.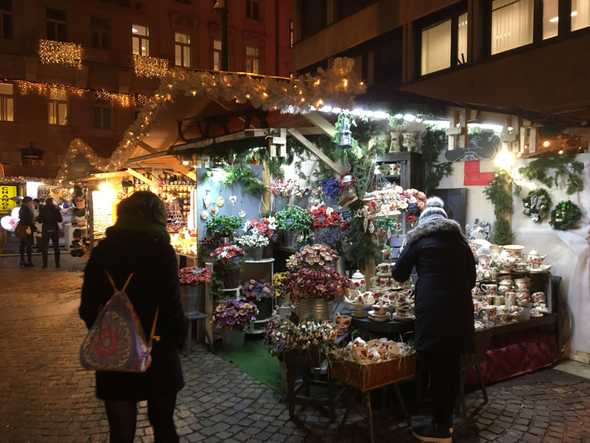 There were also "shows" projected on the side of the St. Stephens Basilica, but I'm not going to lie, the sound effects reminded me of the demonic creatures from the movie Krampus. The projections were still a fun effect though.
Nightride on Tram #2.
Thanks to my handy 72 hour transit card, I could ride public transportation to my heart's content. I had read that taking Tram #2 - a track that paralleled the Danube, at night was a great way to see the sights lit up, and they weren't wrong.
House of Terror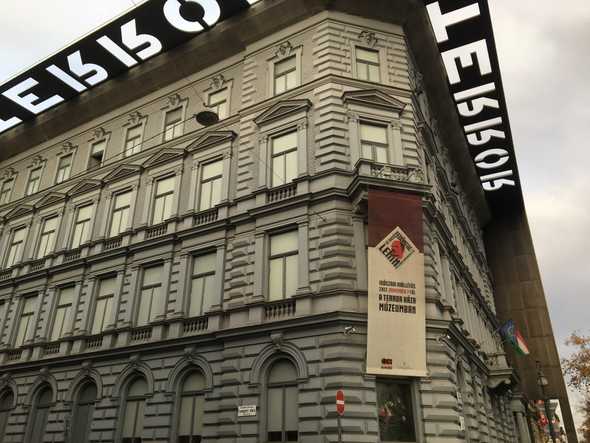 History was never my favorite subject in school, but as an adult I'm far more interested in and jumped at the chance to learn more about this area of the world. I had been warned that the House of Terror was pretty dark, but I still very much enjoyed the museum and listening to the guided audio tour. Hungary has made it through two regimes of terror in the 20th century, and many of the atrocities of both World War II and the Communist regime took place in the actual building that is now home to the museum. It was at one point the headquarters of the Hungary Nazi party(known as the Arrow Cross) and later HQ to the Soviet's State Security Authority.
Gellért Baths
Bathhouses are part of the Hungarian lifestyle, and I can see why. Mineral/thermal baths sounded hokey to me and one step away from a MLM product, but daaaaaamn, after a few hours at Gellért my skin was feeling flawless and replenished after the plane ride sucked all the moisture out of me. The entrance to the building was stunning with stained glass and high ceilings, and further inside were a pool, several thermal baths ranging from 69.8°F - 104°F, and massage areas.
The baths used hot spring water from the hillside, which is rich in magnesium, calcium, sulphate-chloride, hydrogen-carbonate, fluoride ions, and sodium. It was actually pretty cool to see the way the mineral deposits build up on the fountains inside the thermal baths.
Overall Budapest adventures were fantastic 10/10 would recommend. I shall now be cooking späetzle and paprikas at least once a month at home now, I love the cooking inspiration travel brings! Also going to have to see what Hungarian wines I can procure stateside with the help of my favorite Wine Bar or Liquor store! 😘